BXT Product Directions
At Biotin Xtreme Hair Care we have meticulously created a natural biotin based product line (biotin shampoo, conditioner and hair spray) perfect for those suffering from thinning hair and hair loss. With over three decades of treating hair loss you can be assured by using our multi-step product line, you can enjoy a fuller, thicker, and healthier head of hair and scalp. Our biotin based products are hormone, sulfate and paraben free ensuring your hair and scalp are the healthiest they can be.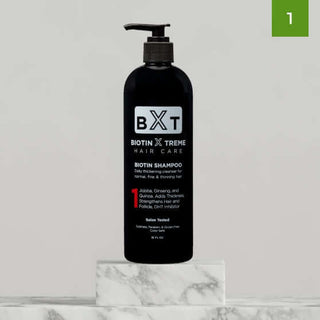 Biotin Xtreme Shampoo
Biotin Xtreme Hair Care's natural Biotin shampoo is a drug free color safe daily thickening shampoo made to improve men's and women's thinning hair. Being 99.5% natural makes it one of the best shampoos for thinning hair and hair growth on the market today. It's the first step in our three step method for hair loss and healthy hair. The sulphate, paraben and gluten free formula leaves all hair types fuller and healthier. For normal, fine and thinning hair our line will leave the hair fuller and free of chemicals and impurities enabling you to get back to the normal hair life cycle you once had. All products are made with only certified pure USP ingredients and sourced and manufactured in the USA.
Directions
For daily use, apply a small amount of our Biotin Shampoo, about the size of a nickel, to wet hair and massage in, rinse and apply a second application. We suggest doing this when you first get in the shower and letting the second application set on the scalp for two to three minutes. If washing daily one application should be enough. If the scalp is oily, or your use styling products please apply a second time letting product stay on the scalp for three minutes to let the ingredients penetrate the scalp and help remove DHT and increase blood flow to the follicle. Rinse with cool water and continue to the second step of our process with our biotin conditioner.
For anyone who prefers not to wash their hair daily please apply shampoo twice letting the second application penetrate for at least three minutes and use the biotin conditioner for one minute. Then use the biotin restoration spray and DHT blocker daily on wet or dry hair per directions.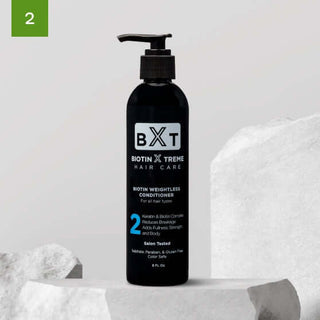 Biotin Xtreme Conditioner
BXT Natural Biotin Conditioner for men and women is a unique product for all hair types due to being a Biotin and Keratin Conditioner for men and women. It is color safe, sulphate, paraben and gluten free. Our natural conditioner is produced with 99.7% natural ingredients and is the second step in our program. The biotin and keratin conditioner utilizes two of the best known products to improve the condition of the hair that are available. We have developed this natural conditioner making it easy to absorb the conditioning properties into the hair and improve and smooth the hair shaft while being easily rinsed out to produce a weightless finish for styling. All ingredients used to produce this and all of our products are certified pure USP grade and sourced and manufactured in the USA.
Directions
After using the Biotin Shampoo apply our Biotin Keratin Conditioner to wet hair and leave on for one minute. If your hair is extremely fine or thin you may want to use a small amount and rinse it off in just a few seconds or skip conditioner completely. The more damaged or dry the hair and scalp the longer you leave it on the hair. After the appropriate time rinse well with cool water and continue to the third step in our process which is the biotin restoration spray and follicle stimulator. For anyone that prefers not to shampoo every day, we suggest you shampoo and condition, at least every two or three days.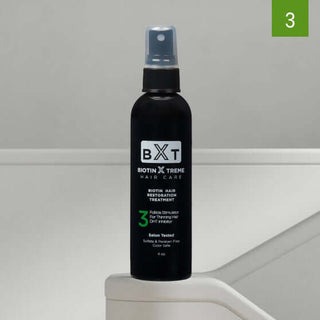 Biotin Xtremes restoration spray and follicle stimulator
Biotin Xtreme Hair Care has created our Drug Free, Natural Biotin Hair Restoration Spray as a topical leave in DHT blocker and inhibitor. It is a non hormonal follicle stimulator spray for thinning hair and hair loss. Being color safe, sulphate and paraben free our product is developed with ingredients that make the solution over 95% natural. Effective in promoting hair growth removing DHT and improving blood flow to the scalp and follicle and stopping excessive hair loss. To be used after our Biotin Shampoo and our Biotin Conditioner. The third step in our program to treat hair loss and improve hair growth and damaged hair. All ingredients are certified pure and sourced and manufactured in the USA.
Directions
Our Biotin DHT blocker spray is the third and final step in our hair loss method. It is our powerful DHT blocker and Follicle Stimulator to be used after our biotin shampoo and conditioner. After towel drying the excess water from the hair hold the sprayer within one inch from the scalp and apply six to eight pumps directly to the scalp by separating the hair and targeting the areas where hair loss is occurring. Most hair loss will occur on the top of the scalp from the crown forward. This is where you should focus the spray staying away from the face and within the hairline. Apply product on the scalp and massage in thoroughly for about one minute. Making sure to manipulate the scalp which will help bring blood flow to the surface and help the nutrients penetrate the follicle. Leave the product on the scalp, do not rinse, and continue styling or comb in place using any other finishing products you would like. Apply twice daily no need to shampoo for the second application. Apply to dry hair, directly on the scalp by separating the hair and distributing thoroughly and massaging into the scalp, do not rinse. We suggest using the spray AM and PM.
If you contact your skin or face wipe the area with a wet cloth. Some redness or blushing can occur, this is normal. If excessive redness persists which is rare dilute the spray with 20% water and retest.
One more piece of advice is to massage the scalp gently without pulling the hair on a daily basis even without the product. As you will see manipulating and moving the scalp will turn the scalp pink which increases blood flow and stimulates the follicle. Like any body part the scalp benefits from manipulation and movement.
Remember hair loss has taken your whole life to become a problem. It will take time and effort on your part to get the hair back to a normal life cycle. Using the best biotin shampoo, conditioner, and restoration spray on a daily basis and making healthy lifestyle choices, we believe we can help anyone achieve a thicker, healthier, and fuller head of hair.